Collette
Collette has been in the industry since 2003. Her vision was to learn her craft and offer something bigger in her hometown, Wabasha. For this, she set her sights on a salon/spa! With the help of her contractor husband, she opened the first salon/spa in Wabasha in 2006. Although she does not practice on the salon floor anymore, she loves training in new talent and helping the other team members when they are in a bind. You can find Collette running around the salon keeping everything running smoothly or in her office doing all the "officey" things. Her vision for Pure Identity hasn't stopped. After 15 years in the original location on Main Street, she and her talented husband expanded the experience for everyone and remodeled a 4,500 square foot space for an amazing salon & spa you will not soon forget. She is blessed to have such an amazing support system with her top-notch staff who inspire her daily!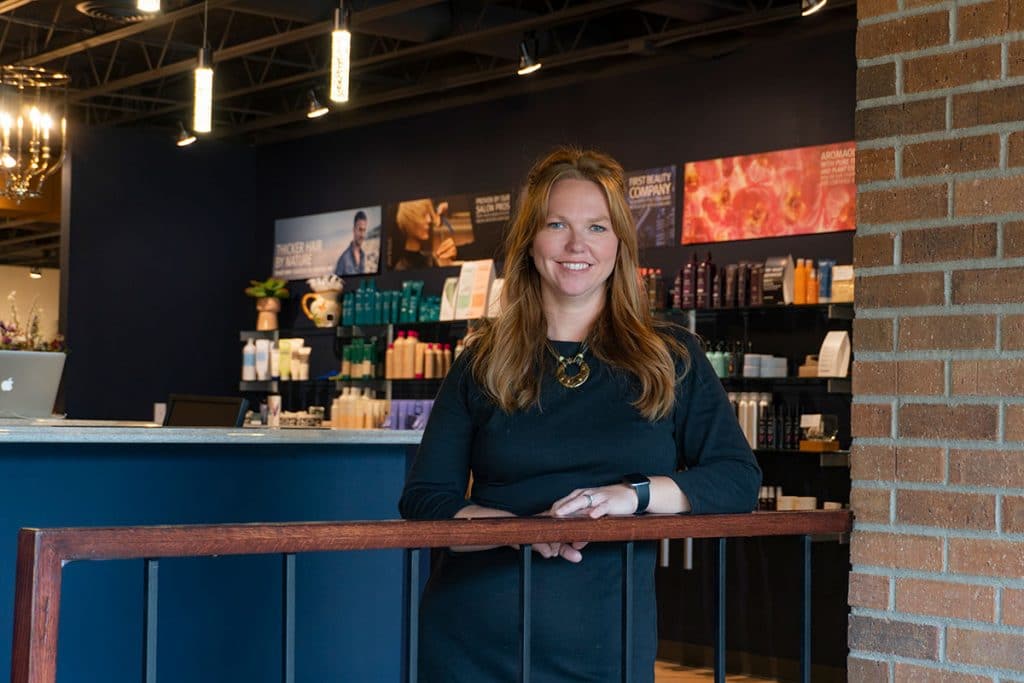 Chelsea
Eminent Massage Therapist + Spa Expert + Senior Stylist
Chelsea's expertise started in 2004 with a certification of Massage Therapy. With some years of massage experience under her belt, she began her career at Pure Identity Salon & Spa in 2006 as one of the original employees! Soon after starting at Pure Identity, she obtained her nail technician license and 6 years after that her cosmetology license! Busy girl?! YES! After juggling many hats, she decided to hone back into massage, her original passion, and LOVES the spa wing at the salon. Eventually you will not see her on the salon floor (boo!). Instead, she will be offering guests her deep tissue, Swedish, sports therapy, reflexology, acupressure, and prenatal massages. You will also spot her working in the nail room on pedicures (her fave), or in the spa offering whatever you might need in the facial rooms! She excels in all areas (clearly), but thrives in skincare, massage and working on the natural nail. Her favorite thing in the world you might ask?? Making you feel amazing! Why wouldn't you want to come see her….
Ashley
Master Stylist + Colorist Brainiac
Ashley started her hair journey in 2007 and is a genuine talent! She is wickedly smart and her color formulas prove that. She is the one we all look to for some of those crazy colors and difficult tones. She also has a keen eye for consistent haircuts and the perfect cut/color to compliment any face shape, hairline, or hair texture. She is so good at her craft that it might take weeks to get an appointment with her, but oh so worth the wait. She might even dazzle you with her quick wit and huge heart. Ashley started at Pure Identity in 2008 and never looked back (mainly because we will not let her!). Her professionalism is light years beyond her age. She is our resident salon educator when it comes to Aveda products and service education. You can tell she's a natural at it because when you sit in her chair, she educates YOU on your at home success! A win/win for everyone!
Brooke
Master Stylist + Artistic Hair Connoisseur
Connoisseur you might ask?? YES! Because not only does she know a lot in the hair industry, she also expertly navigates her way through every hair that touches her hands. A true artist that can hone in on exactly what you are envisioning for your own style. She'll help you be realistic, yet adventurous. She started in the hair industry in 2003 and it shows. Her passion for creativity is ignited each time she takes a class or reads an article. Brooke's energy and contagious laugh has been enjoyed by all at Pure Identity since 2013 and is worth the long wait to get an appointment with her. She thrives at custom cuts and accentuating those cuts with amazing color! Her keen eye recommends to you what she sees immediately when you sit in her chair. And her long sense of product knowledge will ensure you go home with the right hair care products.
Christal
Master Stylist + Color Enthusiast + Updo Goddess
Christal joined our team in 2019 bringing 12 years of experience, and it shows! She graduated from cosmetology in 2009 and worked for a handful of salons, gleaning whatever she could to pass along to you today at Pure Identity. Her upbeat style inspires us all. She works efficiently with her expertise in color AND cuts. She's not just focused on cutting and coloring your hair but also in creating a flowing masterpiece with just a few pins and hairspray. Her updo's excel and if you are lucky enough to lock her in on your special day, you will see why. Her talents are so impressive, she just taught her own class to our team of hair nerds! Also, her men's cuts are proficient and professional, and, you too, deserve time in her chair to get pampered and perfected!
Angie
Incredible Massage Therapist
Angie originally started with Pure Identity Salon & Spa in 2010 with 11 years of experience of massage therapy in a chiropractic setting. She left Pure Identity in 2015 to raise a couple beautiful babes and returned to us in July of 2021…and we couldn't be more excited! Her massage encompasses a wide range of soothing, nurturing, and therapeutic techniques. She is as knowledgeable as she is compassionate. Angie has also updated her resume to include cupping, aromatherapy, body wrapping and exfoliation. She has a thriving interest in helping you achieve your health and healing goals. Whether you desire a deep and indulgent massage, work on a long-term injury, or are interested in prenatal treatments, Angie is able to meet you where you are on your journey. We know you'll love her just as much as we do!
Rachele
Front Desk Manager + Sanity Keeper + Bilingualist
Hola Rachele! Rachele joined the Pure Identity team in March 2021. And boy, are we glad she did! That gave us 3 months to put her through the front desk wringer before we moved to our new space. She learned to schedule, re-schedule, master the cash register, emails, learn the lingo of the salon/spa world and absorb whatever she could. We sent her home tired and she came back with that dazzling smile for more. We are grateful Rachele can be a part of the team to help our beloved guests and staff. She came to us as a former ESL & Spanish teacher and was eager to try something new. Her Spanish speaking abilities have come in mucho bueno. You'll find her stationed behind the front desk eager to help in any way she can. We would all agree her job is MUY VALIOSA (valuable!)!
Jen
Amazing Massage Therapist
Jen graduated from Boulder College of Massage Therapy 1,000 hour program in 2004 in Boulder, Colorado. After graduating she worked with the division one athletes at Colorado University before returning to Minnesota. Upon returning she found herself moving to Brainerd and working at Glacial Waters Spa at Grandview Lodge for 7 years as a massage therapist. After 7 years, she decided to return to her hometown of Wabasha where she started working for Pure Identity for 8 years. Jen also has several years of experience in the chiropractic office setting where she continues to practice, giving her 18+ years of experience in her trade. Jen specializes in Deep Tissue, Swedish, Prenatal, Hot Stone Therapy, Myofacial Release, Accupressure, and Cupping.
Our stylists are ready to help you the moment you walk through the doors. We take great strides in enriching our minds and adding great education to our resume. You can always be assured we will pass on our ever-increasing experience and talent. With years of experience, our stylists will give you a level of customer service that is unsurpassed. A stylist's level is determined by experience, talent and client demand. Select the level that best suites today's desire and look! Keep in mind we work together as a team, so feel free to have services with as many different stylists as you'd like!